Synergy Fitness Lab
located in Long Beach, CA., we offer group classes in functional fitness. No matter what level experience you have, we offer an intimate location where our certified coaches provide the expertise in providing programming and guidelines to suit your needs. We create athletes and help build your confidence in performing many athletic movements as we incorporate different modalities into this sport of fitness such as Gymnastics, Weightlifting, Power Lifting, and Endurance Sports. We follow the HIIT guidelines in programming while making it our own. Whether an Elite Athlete or someone plagued by chronic pain or injuries, we can scale all workouts and make it your own. Step into our doors and we'll take care of your hour!
---
---
Contact Us
Reach us on Facebook or by eMail. Click on the link above.
Powered by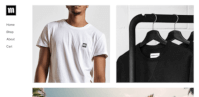 Create your own unique website with customizable templates.